FILMS IN THE ATTIC - 'Back to Freshers Night'
I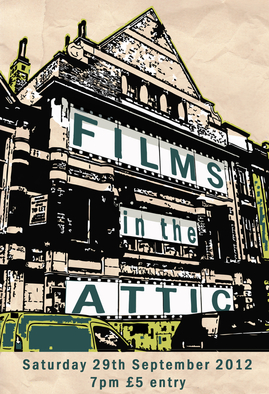 Fulham's beloved Dance Attic have teamed up with touring pop-up venture 2Dcinema and boutique film production company Sentinel Productions to present you a film night for everyone who's at university, wants to go to university... or believes they may have been. Enjoy a night of everything you loved and hated about university: fancy dress, unhealthy food, the pressure of essay deadlines, your best friends and great films.
LOCATION
& ENTRY
Sat 29th September, Dance Attic Fulham, 368 North End Road, London SW6 1LY
7pm doors. Film screenings start at 7:45pm
£5 entry – reduced entry of £4 when wearing any university branded clothing e.g. sports shirt, university hoody, sports tie.
FILMS
CORNERSHOP
– A Short Film Directed by George Hamilton (12 mins).
Corner Shop is a taut and emotional piece of drama that captures a snapshot of British life. WINNER Best European Short European Independent Film Festival and ' Winner Audience Choice Award 'Best Short' London United Film Festival.
http://sentinel-productions.com/
BIG FONT. LARGE SPACING
– British indie comedy (80 mins)
Big Font. Large Spacing explores the student way of life as two slacker psychology students aim to complete an essay in 12 hours. 2 Essays. 1 Night. No Chance.
The film premiered at the Atlanta film festival and is rated 12A. Over the past two years, the pop-up venture 2Dcinema have screened 'Big Font. Large Spacing' to more than 2500 students at 22 different university campuses. Venues have included UCL, Oxford, Cardiff, Brunel, Bangor, Plymouth, Bristol, Keele, Swansea and Sheffield amongst many others. For more information, including a trailer of the feature film, visit
www.2Dcinema.com
Q&A with the filmmakers after the films
SPECIALS
• The Ultimate Student Platter
• Bring a copy or photo of your University degree certificate and get a free bag of popcorn (plus free bonus shot for anyone who got a Desmond)

Join the Facebook page for the event
HERE
.